Chaharmahal and Bakhtiari province is one of the most beautiful tourist destinations in Iran. With its special and unique position, this province has many natural and tourist attractions, among which we can mention waterfalls, springs, stepped villages and wetlands.
In this article, we want to introduce one of the famous sights, called "Tang Zandan" waterfall, which is known among the natives of the region as Dudi waterfall or "Keredi Kon". "Kerdei Kon" in the local language means fog and smoke. This high waterfall is located in the famous and extraordinarily narrow valley of the "Tang-e Zendan". Tang-e Zandan waterfall is formed from the heart of a rock and finally joins the Sabzkooh river.
Where is the Keredikon Waterfall
Sabzkooh Protected Area with an area of ​​more than 54,000 hectares, is one of the most pristine and beautiful natural areas in western Iran and in Chaharmahal and Bakhtiari province. The narrow valley of the Tang-e Zengan is located in Sabzkooh, between the cities of Borujen, Lordegan and Ardal, and with its natural, forest and mountainous landscapes, attracts many adventurous and brave climbers and rock climbers. The valley is home to beautiful mountain ranges, waterfalls, lush vegetation and wildlife.
Tang Zengan or Keredikon (Kurdikan) waterfall is one of the sights of Lordegan and is located 55 km north of Lordegan in Chaharmahal and Bakhtiari province and between high stone walls in the deep valley of Tang Zengan. This waterfall separates Sabzkooh mountain range from Hezar Dareh mountain range in the central part of Zagros in southwestern Iran. The access route to this area is steep and even the nomads can not access it, and for this reason, it is one of the pristine and untouched points of this area.
Tang Zandan waterfall is known as smoky waterfall because when you look down from the top of the waterfall, when the water hits the ground, the water becomes powdery and disappears. This waterfall with a height of 120 meters, flows in two stages of 50 and 70 meters from the rock. The volume of fallen water is so large that at the bottom, white fog and smoke is formed, so it is not possible to approach the waterfall and to watch or photograph the waterfall must stand at least 100 meters from it.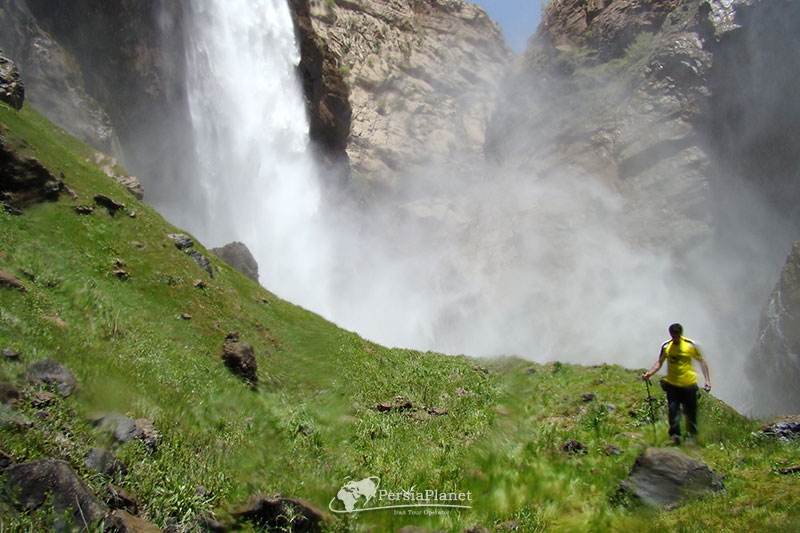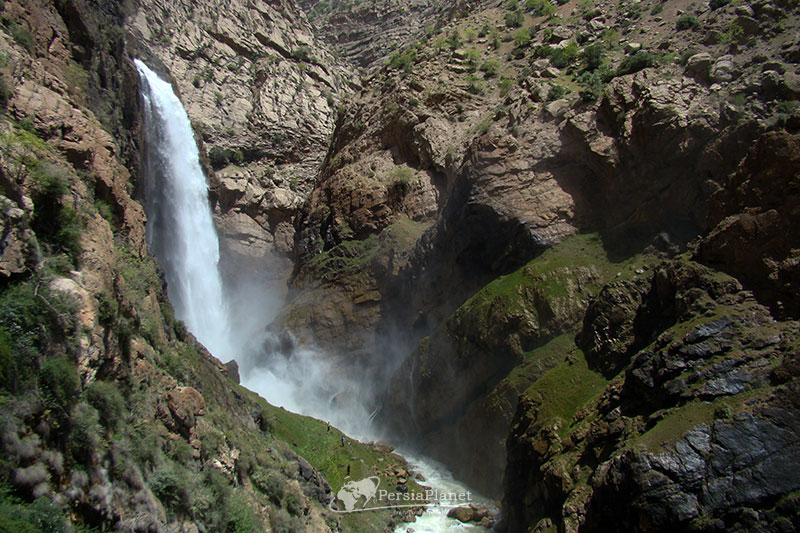 Vegetation and flora of Sabzkuh Protected Area
There are more than 272 plant species in the Sabzkuh Protected Area, including Astragalus, Katirai Astragalus, Wheatgrass, Zalralk, Almond, Lamb, Aras, Kikum, Sand Daphne and oak forests. This diverse and dense vegetation has provided suitable habitats for a variety of animals. About 24 species of mammals, 21 species of reptiles, 4 species of amphibians and 12 species of fish live in the protected area of ​​Sabzkooh.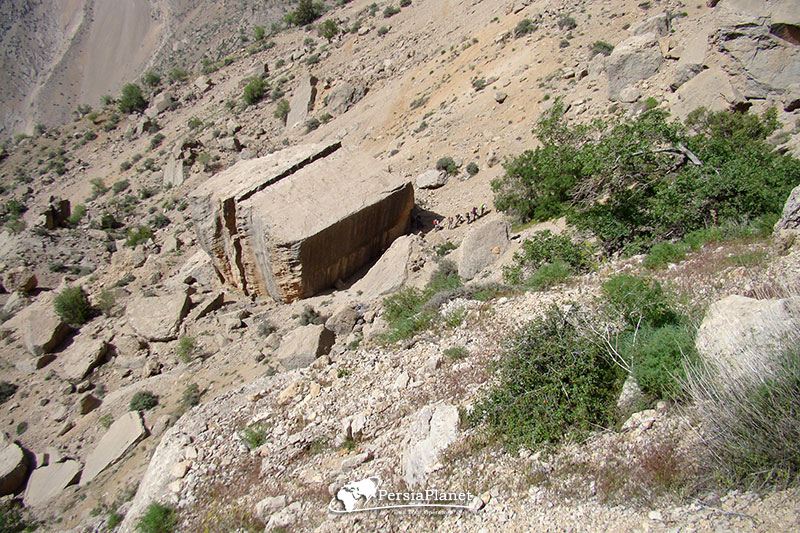 Types of sparrows, sparrows, whole and goats, leopards, wild cats, owls, hyenas, hooded, weasels, well pigeons, mountain pigeons, brown bears, partridges, Persian squirrels, partridges, foxes, terns, jackals, partridges, pike , Golden Eagle, Bats, Ji Jaq, Tshi, Sargape, Sheng, Crow, Hedgehog, Crow, Boar, Red-tailed Crow, Rabbit, Yellow-tailed Crow, Wolf, Parsley, Leopard, Lizard, Turtle, Braided Snake , Ostrich, snake and snake are among the animals that consider Sabzkooh as their home.
The most famous type of vegetation in the foothills of the Zagros is its scattered oak forests. These forests are the second most valuable natural forest resources in Iran after the forests of the north of the country and are known as the breathing lungs of the Zagros. 
Challenges of Keredikon Falls Trip
Despite all the beauties of this region and its pristine and unique nature, you have to take a relatively difficult path to reach it. Keredikon is one of the most impassable areas in Iran and maybe that is why it has remained untouched until now. To access this waterfall, you have to trek for hours. Once you start your walk, you will be about 7 to 8 hours away. Therefore, you should definitely spend a night in the heart of nature.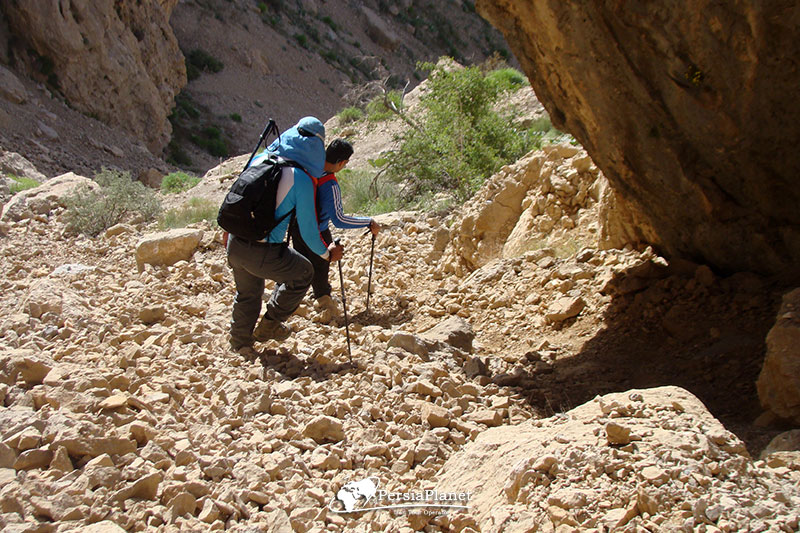 The access route to this waterfall is very long and in some parts of it there is no path! Therefore, be sure to travel to this area as a group, with nature equipment and with a local guide. Of course, it is worth it along this difficult path. Watching one of the biggest waterfalls in the country, along with the vast oak forests and high cliffs of the Zagros, will take the tiredness of this road out of you.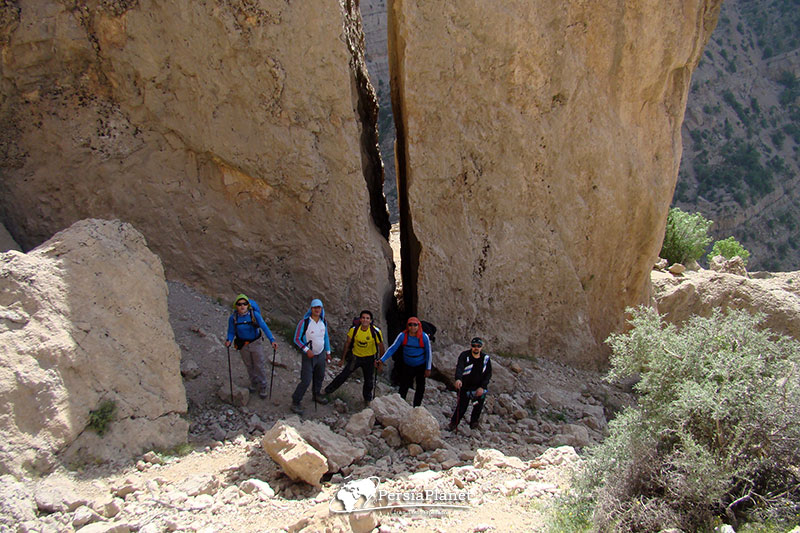 The best season to visit this area
Tang-e Zendan has a warm climate. Undoubtedly, the best season to visit this region is spring, from mid-April to late May. In May, many wildflowers grow throughout the valley.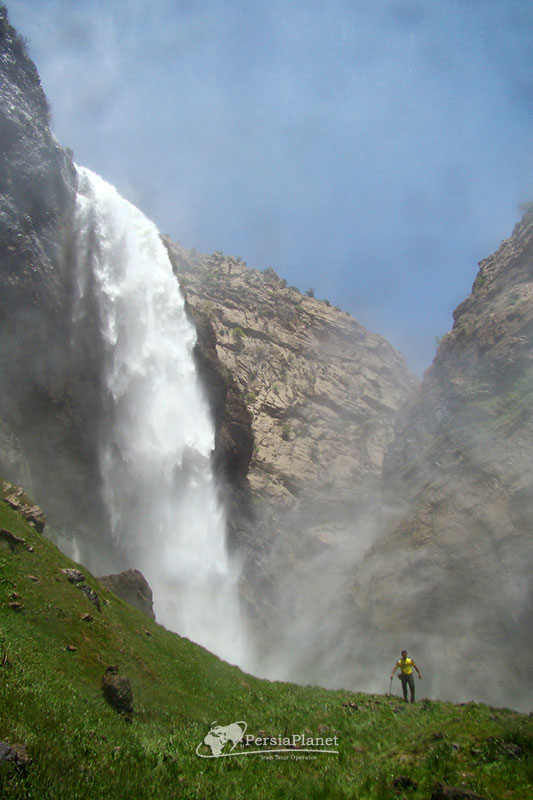 The final word
Keredikon waterfall is one of the pristine and untouched areas of Chaharmahal and Bakhtiari. Be sure to visit this area as a group with a local guide. Having a GPS will also help you a lot. Having enough water, food and equipment are other necessities of traveling to this area.
---